Ti utvalgte fra 2005 - Ken Vandermark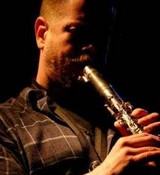 Ken Vandermark (saksofon, klarinett) har base i Chicago og derfra styrer han band som Vandermark 5, Spaceways Inc. og Territory Band. I tillegg figurerer han regelmessig på plateinnspillinger både i USA og Europa. I Norge har han sluppet to plater med Paal Nilssen-Love i Dual Pleasure-serien, samt to plater med Free Music Ensemble (Nilssen-Love; Nate McBride), han har også den Jimmy Giuffre-inspirerte trioen Free Fall med Ingebrigt Håker Flaten og Håvard Wiik. Vandermark har også samarbeidet med Lasse Marhaug, og i 1998 bidro han på Gastr Del Sols klassiker Camofleur, med blant andre Jim O'Rourke, David Grubbs og Markus Popp (Oval). Bredden i Vandermarks virke som musiker reflekteres i hans ti ikke-rangerte for groove fra plateåret 2005.

Foto: Bartek Winiarski, des. 2005.

Peter Brötzmann & Han Bennink - Schwarzwaldfahrt
CD
(Atavistic)
The creative work realized by Peter Brötzmann and Han Bennink on this re-release of their FMP album from 1977, stands outside the parameters of "improvised music". More a document of their sounds in the natural world, Schwarzwaldfahrt feels like a cross between some kind of Fluxus performance and the action of jazz. Mind bending.
»
[vis produktdata]

Lee "Scratch" Perry - I Am the Upsetter
CD
(Trojan)
It was a very good year for reggae releases, but I limited myself to picking two from the bunch. Lee Perry was a genius sound producer during the period highlighted on this Trojan boxset, and the 4 cds here provide a solid overview of his remarkable accomplishments.
»
[vis produktdata]

Diverse artister - Studio One: Roots 2
CD
(Soul Jazz)
For me, Studio One was like a Jamaican version of Stax records. All the issues on this series from Soul Jazz are outstanding, and this one is no exception; great artists performing at their best.
»
[vis produktdata]

John Coltrane & Thelonious Monk - At Carnegie Hall
CD
(Blue Note)
The Monk/Coltrane document has been one of the most hyped jazz albums in years. Unlike most releases of this sort, this cd actually lives up to the hyperbole - which says a hell of a lot.
»
[vis produktdata]

John Coltrane - One Down, One Up - Live at the Half Note
CD
(Impulse!)
There was another Coltrane release this year, however, which seems to have been overshadowed by "At Carnegie Hall". Another live document, this double cd presents Coltrane's quartet playing at the top of their game. The photos included in the packaging say more about what it means to play this music, then and today, than most books you read.
»
[vis produktdata]

Diverse artister - Tropicalia - A Brazilian Revolution in Sound
CD
(Soul Jazz)
One of my favorite record labels puts out another fantastic overview collection, this time of the Brazilian Tropicália movement. Superbly selected cuts from artists like Gal Costa, Jorge Ben, and Caetano Veloso.
»
[vis produktdata]

Atomic - Bikini Tapes
CD
(Jazzland Rec.)
Hard to come by, but well worth the effort. Atomic are really one of the only contemporary jazz groups that inspire me to find better way of doing my own work.
»
[vis produktdata]

Miles Davis - The Cellar Door Sessions 1970
CD
(Legacy / Columbia)
It's not clear to me what it's going to take to get everyone to finally realize how musically brilliant Miles Davis' electric period was, but if this 6 cd boxset doesn't clear the air nothing will. Awesome.
(Slippes i Norge i februar 2006, red. anm.)
»
[vis produktdata]

Derek Bailey - Carpal Tunnel
CD
(Tzadik)
His recent death makes this album even more poignant. The sound of one of the 20th century's musical giants ability to perform as it starts to disintegrate - beautiful and powerful music.
»
[vis produktdata]

AMM - Norwich (live)
CD
(Matchless Recordings)
John Tilbury and Eddie Prévost follow up their fantastic duo album of 2004, "Discrete Moments", with another set of extremely spare and severe music. Musical "silence" is rarely utilized with the intensity of their approach to improvisation.
»
[vis produktdata]

(05.01.06)
Hentet fra arkivene
Groovissimo

High Llamas - Beet, Maize & Corn
(Duophonic / New Records)
High Llamas har lenge befunnet seg himmelhøyt oppe i Himalaya, men har likevel klart å nå nye høyder på Beet, Maize and Corn!
Flere:
Fruit Bats - Spelled In Bones
Mats Eilertsen - Flux