Gjesteliste: Noa Babayof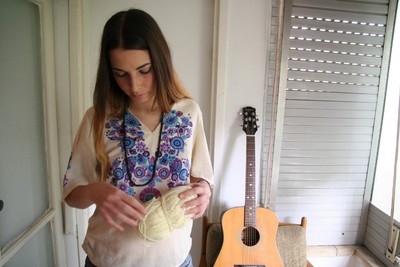 Noa Babayof er en israelsk folkartist som i 2008 bosatte seg i Philadelphia. Hennes debutalbum From A Window to a Wall har mottatt stor begeistring fra internasjonale og nasjonale musikkelskere, deriblant her på groove hvor anmelderen falt pladask for det Greg Weeks produserte albumet.

Til groove har Babayof laget en mixtape av låter som påvirker henne til daglig, og som du kan lese av teksten hun har laget, betyr utrolig mye for henne.
Requiem for Dying Mothers by Stars of the Lid
I was exposed to Stars of the Lid only in this recent year, and I feel lucky and very fortunate to feel these other worldly sounds all around me.

Coming from Israel, winter is a very unfamiliar phenomenon, but since I moved to Philadelphia I saw poetry in motion while I was riding my bike and snow began to fall. It was filling and feeling the air.... hovering all around, and I felt like I was leaving the ground. And that is the kind of feeling you get when you hear all these fractions of beauty come as one in Stars of the Lid's music.

It hovers in the air.

Dear Friend by Paul McCartney
McCartney is the God of all beautiful melodies.
While Lennon was raging his way into "How do you sleep", Paul got into a dark studio room in 71, and allowed pain and lost run through his fingers, just trying to understand.

Never fully comprehending the transition that had occurred, he's feeling his way into the melody and lyrics, grabbing ends of raw emotions, and traces of bygone times.

This year unfortunately I've come to know exactly what McCartney was singing about .

So Long Theresa by Marissa Nadler
I've been under Marissa charms and spells for the last two years.

She recorded her magnificent Songs III: Bird on the Water album in 2007, under the production of Greg Weeks. I was lucky enough to have Weeks producing my first album later on that same year.

Continuing that pure magic that is coming out of her voice and her heartfelt lyrics, she released this pearl from her upcoming new album.

The lyrics were written by a friend, and Marissa sings them as a sparrow who brings it all out, in the finest of sorrows:

Saying goodbye, leaving pieces of your heart in a song, being hard to love. So long Theresa, so long.

Kodak Ghosts by Michael Chapman
Chapman is one of the best singer/songwriters to ever step foot in this world. From the sixties till this very day, he keeps writing great songs.

I was unbelievably lucky to see him performing in a tiny book store last October in Philadelphia. I can honestly say that it was one of the best shows I've ever seen, and until today it keeps resonate in my head and heart.

He finished his most personal set, and before I knew it, for the last song, he started playing Kodak Ghosts.

There are songs that hits you when you're not ready for them to come, but in my case, it came on the exact moment it needed to enter my life, and since then he became a close friend of mine.
He teaches my every day how to become a fully qualified survivor.

Rainy Day by Susan Christie
Everything about this song is no less than hunting.
Stepping off a stage after one of the shows I had here in Philadelphia, while in the background Susan's Rainy day was playing, I knew immidiately that I had to get this album as soon as possible!

To think that no one released this treasure in the sixties is a terrible shame. Susan Christie did a set of demos between 66-68 with some breath taking arrangements , and all together the production of her music is so rich, that as a listener you may experience a crazy summer in the midst of that Rainy day she's singing about.

Setting of despair by The Crystal Chandelier
This rare beautiful psyche-folk piece comes from a band about which very little is known. My dear friend John introduced me to it, and on that same day I found myself listening to it about 1000 times.

It should have been one of the sixties classical songs, one that everybody would know by heart.. but it ended up being a secret that might pass through your ears if time and right circumstances would come together to give you a wonderful gift.
The Crystal chandelier were a garage rock band, but in this track they seem to be the spiritual fathers of a lot of today's psych-folk bands.

Not to mention that the violin in this song gives the best fight ever to the one on Dylan's Desire.

Autopsy by Fairport Convention
A perfect song, with perfect vocals and it has some of the best transitions in a folk rock song that I've ever heard.

I was never a huge Sandy Danny fan, but this song almost makes me want to worship her. Such a powerful presentation for every word. It makes me live the song's lyrics in the closest way as possible, and most of the time I can't stop hearing it.. .

Makes me want to take my own music into similar shores.

Memories by Earth & Fire
Another new –old discovery, this time thanks to Mr. Greg Weeks.

I barely know a thing about this band, but it was love from first listening!

Coming from the Netherlands, they were a prog-rock band that took a perfect sixty kind of a melody into a much darker worlds.

All of the song in truly wonderful, but it's the way their singer; Jerney Kaagman sings: Alone again, feeling VERY SAD that really get you hooked to this song for ever:

Your Pretty Face is Going to Hell by Iggy & the Stooges
In two words: RAW POWER. (sometimes it's all I need to hear)

Put the Lime in the Coconut Harry Nilsson /
I'll be Gone by Spectrum (a band from Australia, this song is from 71)

Two words: Pure fun.

And a few more:
July 08 I was on an east coast tour with the amazing Sharon Van Etten, and every time we would hit traffic, instead of getting mad, Sharon would just put one of these songs, while dancing and singing every possible harmony to it.

Ever since, I developed the habit of hearing one of these two if I get upset...

Winter Lady by Leonard Cohen
Every song that Leonard Cohen wrote has it's own magic. This one came to be very close to my heart this year due to this following line:

"You chose your journey long before/ You came upon this highway"

Yes I did.

Isles by Fleet foxes
I was in a car with a friend when he put on the Fleet Foxes cd, and it blew my mind!! I couldn't believe that I was hearing this, not now, not in 2008.

Those magical harmonies, those timeless melodies, even the way that Robin the lead singer sings, when it's just him and the guitar - no matter how I look at it, to me, they're the best 2008 discovery.
When I first heard them they seem to me like the perfect combination between The Beach Boys and My Morning Jacket. Two bands that I love very much.

And I was thrilled when I got to see them play live in Philadelphia, the magic from the album was definitely there.. .

Keep by Sharon Van Etten
I was extremely fortunate to meet Sharon, and to tour the east coast with her all through last July.
From the very first show she became one of my favorite musicians.

She has a direct way to everybody's heart, and usually after the last song in her set. No one is ready to let her get go. Her lyrics are painfully honest, and her voice is rare. One that you thought you'll never come a cross. More than anything else she became a very good friend of mine. And I love her dearly. She's truly one of a kind.

Most of the Time by Bob Dylan
Bob Dylan is one of my three favorite musicians of all time.

But it was only in these recent few months that I finally read his remarkable chronicles and it seems like it was just waiting for the right timing.

I'm constantly beeing amazed by him. He's influenced my life in a tremendous way. I live his music now more than ever, and it never fails to inspire me.

Most of the time is the closest song to what I was feeling a few months ago. Dylan of Oh Mercy is as personal as you can get.

My love for him goes beyond words.

Hopefully by My Morning Jacket
When Sharon and I were in Burlington, we stopped at a record store, and I found My morning Jacket cd that I've never seen before.

It was: Acoustic Citsuoca: live at the Startime Pavilion.

It contains some of the most beautiful MMJ songs, mostly sang and played by Jim James with his guitar alone. and to me that's more than you can ask for.

When he sings the song hopefully I'm not sure what to do with myself. It's so beautiful, my heart can't handle what it feels. It's changed from red to golden.

(27.12.08)
Hentet fra arkivene
Groovissimo


Erlend Ropstad - Hva om det ikke er sånn som du tror at det er
()
Ein sørlending finn stemma si blant ein bunke lågmælte songar om rastlause tider.
Flere:
Broadway Project - The Vessel
Antony and the Johnsons - Antony and the Johnsons