Gjesteliste: Geoff Berner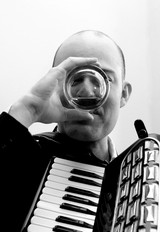 Canadiske Geoff Berner bør være godt kjent over det ganske land etter flere bejublede soloplater, turneer og lengre opphold her i Norge. Han har turnert med Kaizers Orchestra, og også gitt ut liveplaten Live in Oslo (2004). Den tekststerke trekkspiller kommer med ny plate i februar (Wedding Dance of the Widow Bride). 13. februar starter han på nok en Norgesturne, fra Tromsø og sørover, med et par konserter i Oslo i slutten av måneden. Her er Berners årsliste, som han selv sier det: Here are the things I really liked this year:

Strapping Young Lad - The New Black
CD
(Century Media)
This is how to be truly heavy and not be a silly stunted adolescent. Heart-wrenching, honest self-examination, tearing through your body like a chainsaw.
»
[vis produktdata]

The Dresden Dolls - Yes, Virginia
CD
(Roadrunner)
Also refreshingly unafraid to be themselves. Americans who aren't afraid to be literate. So there.
»
[vis produktdata]

The Joel Plaskett Emergency - Ashtray Rock
CD
(Maple Music)
Anyone who ever started a rock band as a kid will know that they've lived this album. Drunk Teenagers is truly an instant classic.
»
[vis produktdata]

Against Me! - New Wave
CD
(Sire / London)
Rare creativity in punk, a genre I love which lacks creativity mostly these days.
»
[vis produktdata]

Tegan & Sara - The Con
CD
(Vapor / Sire)
Good songwriters, thoughtful, honest, cliche-free. Not afraid to be odd. Young women who are not afraid of, or impressed by, mainstream values. And catchy as hell.
»
[vis produktdata]

Corb Lund and the Hurtin' Albertans - Horse Soldier! Horse Soldier!
CD
(Stony Plain)
Corb Lund lays his money down on idiosyncratic, artistically powerful, commercially questionable songs. Real country music.
»
[vis produktdata]

Jan Johansson - Jazz På Svenska
CD
(Heptagon)
Everyone should get stoned and listen to this guy at least once a month. Better than Prozac because it doesn't lie to you.
»
[vis produktdata]

Carolyn Mark - Nothing is Free
CD
(Mint)
She is currently writing the best songs in Canada.
»
[vis produktdata]
ANNET

The Rizdales - Sundays I Can't Take
A perfect song. So rare. I listened to it over and over. And then over.

Kaizers Orchestra - Enden Av November
New single, a return to weirdness for the Kaizers. That's just what I was hoping for.

Lisa Germano - Cancer of Everything
This is old but I just discovered it this year. Bravest, coolest song ever.

D. Trevlon - Summer of Fun
A quietly subversive writer and performer. Think about his work enough and you'll be deeply disturbed and exhilarated.

Tom Waits/Kathleen Brennan - The Road to Peace
A stunning departure from the greatest love story of American song. Waits and Brennan decide to break the 4th wall and talk political specifics about the world we live in, and come up with the best song ever written about this agonizing problem. I knew they could do it. He was an excellent student, he studied so hard, it was as if he had a future.

Di Naye Kapelye - My Tractor
Not released yet. Another immortal work by The Only Klezmer Band That Matters. Won't some label sign them? What's wrong with the world?


(28.12.07)
Hentet fra arkivene
Groovissimo


American Suitcase - Summerman
(Thatsperfectwonderball)
Bandet har brukt tiden siden Change godt. Og bringer et par nye elementer inn i sitt søtladne lydbilde.
Flere:
Kvelertak - Kvelertak
Pinetop Seven - The Night's Bloom