Gjesteliste: Johnny Mackay/Children Collide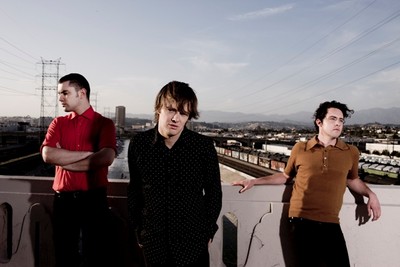 Johnny Mackay er hovedmannen bak det Melbourne-baserte bandet Children Collide, som i 2008 slapp sitt debutalbum The Long Now.

Children Collide har i altfor lang tid vært "det neste store" i hjembyen, og alltid høstet gode ord om sine utgivelser og konserter. Vel fortjent, så det er bare å håpe at det er nok til å fly dem over til Europa og Norge snart.

Her oppsummerer han 2008 både på det musikalske og tilfeldige plan: - 2008 top 10 in alphabetical order. Actually, there are twelve items here, and their not all musical. Just a random list of stuff I liked over the year I guess, sier Mackay til groove.
Barack Obama
I don't really need to explain how amazing following this guys journey over the year was. When we were in the states the Democratic leadership was still being contested and I'm kicking myself for not buying the "Bro's before Ho's" shirt that some enterprising fella was selling down on Hollywood boulevard.

Bon Iver
I'm sure this guy is in loads of top tens but fuck me. I got this album and it just took me from tingles to tears and back again. My favourite tracks are Flume and re: stacks - the first and last songs on the album. It really is beautiful. His falsetto and doubling just left me obsessing over being able to sing like that, but it's the emotion that really makes it.

Buraka Som Sistema – Kalemba
From the moment I heard this I've been running around making people listen to this on my phone and dancing like an idiot.

Crystal Castles – Untrust Us
I couldn't stop listening to this song. Whatever that vocal thing is I wants it.

ESG – A South Bronx Story
This is far from a 2008 release, but my friend introduced me to these guys during the year and it quickly became a favourite. We even jammed on their track UFO a bunch of times.

MGMT – Time to Pretend
Sorry to be so fucking predictable, but that melody is going to be something that brings 2008 flooding back into my memory whenever I hear it. It's definitely my favourite of the three songs on their three song album.

Peter and the Wolf – Lightness
I'm not sure this album has even been released in Australia, but I hope it gets the attention it deserves. I can't help but feel a little disappointed that it wasn't up there with Fleet Foxes and Bon Iver in terms of praise.

Portishead – Third
Albums like this make me hope and pray that the album itself isn't really a dying format like some industry cynics are predicting. It peaks for me with "The Rip". Brilliant album.

Snorkeling
Getting my Danish girlfriend who has a crazy fear of fish(I think it's called ichthyophobia) to go snorkeling with me in Thailand. That is, until she freaked out and started climbing all over me and half drowning me.

Stephen Colbert
We spent a couple of months in LA earlier in 2008 recording our album. Every night we'd take a break for dinner and watch either this guy or Jon Stewart. I can't work out if they kept me sane or just elevated my insanity to American levels. Either way, Colbert is my fucking hero.

The Presets and their album, Apocalypso
It's not often that an artist and album can dominate Australian music for a year while being interesting and progressive. These guys deserve every success and it always makes me smile to hear their tunes floating out of clubs, pubs, shoe shops or elevators.

Vodka and Lemonade (as in 7up or Sprite)
I read a load of Bukowski earlier in the year and this became my drink of choice. Besides, our tour manager has banned us from whiskey 'cos it tends to make us fight.

(15.01.09)
Hentet fra arkivene
Groovissimo


Okkervil River - Down the River of Golden Dreams
(Jagjaguwar)
Austins fineste følger opp en av fjorårets høydepunkt innen americana / folk-genren.
Flere:
Sufjan Stevens - Seven Swans
The Chemical Brothers - Push the Button