Gjesteliste: Gay Against You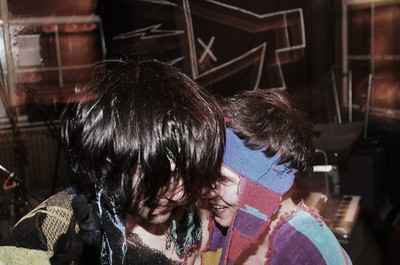 Duoen Gay Against You leverte på tampen av 2009 det som skulle bli en av deres aller siste konserter sammen. Joe Howe fortsetter imidlertid med sitt prosjekt, Ben Butler & Mousepad, og vil snart være aktuell på norske dødpop med sin første syvtommer. Mens vi venter kan vi hygge oss med Howes høydepunkter fra 2009:

Hudson Mohawke - Butter
CD
(Warp)
Totally mad production, ultra glossy and slippery. The perfect debut from this Glasgow guy!
»
[vis produktdata]

Synergy - Games
CD
(Passport Records)
Not strictly new, but new to me this year - 1979 album by Larry Fast, who played for Genesis and Peter Gabriel. Speedy, rocking and synth-y!
»
[vis produktdata]

Diverse artister - Harmonia: International Skweee Vol. 2
CD
(Harmonia)
Right up to date, Harmonia brings the best in skweee for 2010. Superfonky.
»
[vis produktdata]

Chain and the Gang - Down With Liberty... Up With Chains!
CD
(K Records)
Svenonius' latest is funny and thoughtful. See Cryptacize for hummability factor also.
»
[vis produktdata]

Antipop Consortium - Fluorescent Black
CD
(Big Dada)
Unexpected return. Weird beats, skewed raps. Makes me think of how good 2003 was, in a good way.
»
[vis produktdata]

Genesis - Duke
CD
(Charisma / Atlantic)
A big influence on me this year - story arc, great keyboards. I'm even beginning to appreciate Phil Collins (a bit).
»
[vis produktdata]

Cryptacize - Mythomania
CD
(Asthmatic Kitty)
We saw these guys in a tiny basement in Berlin. Classy record, great tones and construction. Was humming this from April till June pretty constantly.
»
[vis produktdata]

Deerhoof - Offend Maggie
CD
(Kill Rock Stars)
Deerhoof always make the best albums. Great power and dynamics in this one, as well as fantastic tunes.
»
[vis produktdata]

Ryuichi Sakamoto - Thousand Knives
CD
Probably the overriding soundtrack of my year, from cold January in Aberdeen to now.
»
[vis produktdata]

Siriusmo - The Uninvited Guest
Vinyl 12"
Surprising production, slamming. Everything he does is great.
»
[vis produktdata]
Foto: Andrew Ellis

(04.01.10)
Hentet fra arkivene
Groovissimo


Mclusky - The Difference Between Me and You Is That I'm Not on Fire
(Too Pure)
Mcluskys tredje og kanskje beste skive er en frydefull utøvelse i pulveriserende støyrock.
Flere:
Old Man Gloom - Christmas
Aphex Twin - drukqs