Topp 10 2005 - Sean Michaels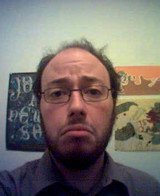 Sean Michaels driver blogen Said the Gramophone fra sin hjemmebase i Edinburgh, Skottland. Det har han gjort siden 2003, som en av de tidligste mp3-blogene ute på veven. Senere har Said the Gramophone utvidet staben med en fast skribent fra Toronto og en fra Montreal.

Said the Gramophone utmerker seg i dagens blog-landskap med musikalske filer og tekster fra et bredt genremessig felt, og regnes av mange som de mer seriøse og innflytelsesrike sidene der ute.

Sean Michaels sine høydepunkter fra 2005 ser ut som følger:

1.Robyn - Robyn
CD
(Konichiwa)
Robyn must have been collecting pop tunes, like icebergs, for the last five years, and now finally they're set in a row - majestic, beautiful things, there in the harbour. These songs squelch and pop, they dazzle and swoon, they sigh... but with an almost Dylanesque flair she lifts silly electronothings into a place of emotional resonance, makes pop songs into treasures.
»
[vis produktdata]

2.Final Fantasy - Has a Good Home
CD
(Tomlab)
His songs sound so casual, like you could toss off these looping violin parts, these raindrops of vocals, these lyrics of death and place and sex and longing. But as much as he pretends, he is not casual with his heart - there's a deep feeling in every plummy line, in every pleasant slice of afternoon chamber-pop. There are other Boys With Violins - Andrew Bird, Patrick Wolf, Physics of Meaning, - but only Owen Pallett's songs could freeze ponds over and then lead you skating onto them.
»
[vis produktdata]

3.Broken Social Scene - Broken Social Scene
CD
(Arts & Crafts / City Slang)
These songs are so thick with sound that you can only go fishing: lower your line and hope to draw up a chorus, a bridge, a melody, a climax. The currents are so strong, the fish so brilliantly coloured, the pearls so long-lasting, slippery and fine.
»
[vis produktdata]

4.Smog - A River Ain't Too Much Too Love
CD
(Drag City / Domino)
With calm and a wry knife-edge, Bill Callahan has recorded the best album of his career.
»
[vis produktdata]

5.Herman Dune - Not On Top
CD
(Track & Field)
Skewed folk-pop with the joy of the early Beatles, the confusion of late Pulp, the wild and woodsy sentimentality of Will Oldham and (on backup vocals) Julie Doiron. The best thing from France since bread.
»
[vis produktdata]

6.Okkervil River - Black Sheep Boy
CD
(Jagjaguwar)
The best lyricist of his generation tells stories of love, fury and loss - folk music that isn't afraid to play simply to your heart.
»
[vis produktdata]

7.Sigur Rós - Takk
CD
(EMI Virgin)
Finally these Icelandic kids strip off their mantles of high pretension and make an album of bombastic pop music. It's almost hilariously overblown, but this is what makes it shine so bright: this is the album you wish Coldplay would make.
»
[vis produktdata]

8.M.I.A. - Arular
CD
(XL)
Better out of tinny speakers than your expensive hi-fi, the secret is in the tick-tack play of words, the ch-ch-ch of beats, the way the songs slide right down your spine, sticking like gummies to the inside of your ribs.
»
[vis produktdata]

9.The Constantines - Tournament of Hearts
CD
(Sub Pop)
Some people liked the record by The National, but the Cons did it so much better - moody and slow-surging, but with an occasional flare of feeling - anger, lust, nostalgia, - rock music that's decelerated to the point that it can be true.
»
[vis produktdata]

10.Page France - Hello, Dear Wind
CD
(Fall)
Songs of simple glockenspiel choruses and oh-boy rhymes; stories of magic-realist angels, the sparks between lovers, the day when the sky splits into stars.
»
[vis produktdata]

(03.01.06)
Hentet fra arkivene
Groovissimo


Tord Gustavsen Trio - Being There
(ECM)
Tord Gustavsen Trio bevarer det enkle og vakre, samtidig som nye dimensjoner bringes inn i samspillet.
Flere:
El Guincho - Alegranza!
Noxagt - Turning It Down Since 2001