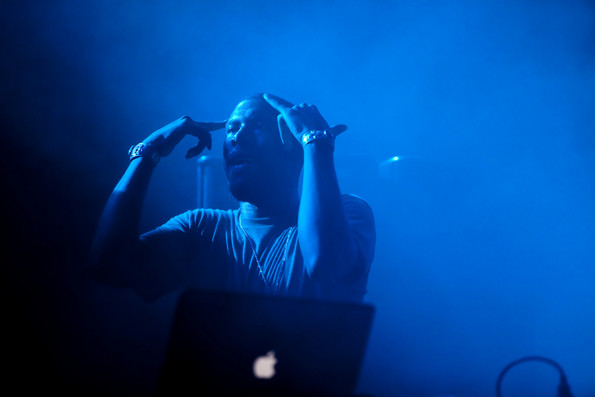 Sonar by Day, Sonar by Night
Siouxzi Mernagh har tatt turen til Sonar, festivalen for avansert musikk i Barcelona, og har fulgt brødsmulene til musikkens fortid, nåtid og fremtid.
29.06.10
It's taken a week's worth of mind and heart gathering, back in the sunny hedonism of Berlin, to find the essence of what it is that makes Sonar so very special. When living in a city that's arguably the world's current nucleus of progressive music, I had to ask myself whether Sonar, that proclaims itself as 'advanced music' really lives up to its claim of leaping beyond the realms of being just another summer music festival.

I'm charmed immediately by the fact that you can simply follow the beats from where you're staying down a medieval cobble-stoned lane and find yourself at Sonar by Day. The irresistible proximity of Sonar by Night to the ocean for a perfect next-morning recovery is also pure pleasure. Importantly, it's also the sense that this festival brings together a global 'family' of music producers, promoters and lovers that support each other rather than compete for limelight at this very special place because they are all, more or less working towards a common goal; creating the future of music.

Sonar by Day makes for a pocket of musical sunshine in a cluster of buildings that comprise Barcelona's Museu d'Art Contemporani, right off La Ramblas. Somehow these slick white buildings visually add 'art' credibility to the status of the music echoing from the gallery walls and down the surrounding twisted lanes. It's this happy crash of old Barcelona with the Barcelona art establishment with summer festival messiness. Freshly washed sheets on the balconies of the surrounding pensiones moved in near-synchronicity to the throbbing beats of Pete Tong (UK) below at SonarVillage while security guards in the art gallery looked on with mild bemusement at the hordes of over 30,000 revellers in their obligatory yellow plastic sunglasses and bikini tops, dancing through their shiny glass doors and on the astro turf outside. As for the music itself at Sonar by Day, it was a strange mix of trying to sound like the future, but not going too far so that the ears of the masses don't lose their way, don't get too uncomfortable. The breadcrumbs were still very much visible on the pathway in the forest to the future.

Music for the libido

There were a few very impressive exceptions to this: first and foremost, King Midas Sound, produced by Kevin Martin of the Bug fame. They certainly lived up to the philosophy they've posted on their blog: "An artist is the sum of their risk." (Tom Waits). They've certainly taken risks with their new album 'Waiting for You' - a deep dark love-letter of an album that sometimes almost seems too private to listen to. And on stage too, their wall of sound, their adeptness at combining gut-wrenching down-tempo 'lovers' rock' with heart-wrenching vocals was not aimed at simply keeping the punters happy. This is the future direction of a fusion breed of dubstep/ dancehall/ noise for the open-minded, that knows how to hold its own and isn't about to run off and try to remix La Roux. The bass was well matched by the swampy depths of the lighting: reminiscent of the non-lit 'FWD' evenings at Plastic People where London's best dubstep fun could be had. A significant difference between this music and other beasts in this musical family (except perhaps for Burial): it's music for the libido but also unafraid to talk to the heart of its audience.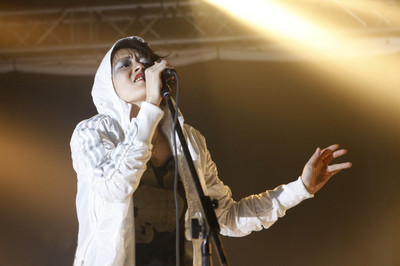 Significantly, the Red Bull Music Academy was also home to some risk-takers, in the form of performance art/ punk fusion Teri Gender Bender from Mexico. Although using very much the 'underground' art symbolism du jour (sort of the real-life version of the art of Mark Rydin: all about dark decadence of the early twentieth century... Dark-haired girls bodiced in white and floral dresses macabrely drenched in blood, hurling themselves around the stage wailing like banshees on heat, spitting red sparkles and feather dusting each other suggestively). Sounded a little like Magic Dirt or The Kills, or even Juliette Lewis but there was something unashamedly unique about them. Perhaps like the twin daughters Lydia Lunch never had. Later on, still in SonarDome Kool Clap and Ango were fun but relied far too heavily on 'favourites' rather than progression to get the crowd moving. Similarly, Goldilocks came across as a very generic looking blonde chick jumping around stage with her back-up singers.

The kind of quirkiness that goes down well

Inside at the SonarComplex, Cluster sounded very much like they were possibly the most progressive, perhaps more like 'the future' than anyone else playing on the first day. They also had almost no crowd at all. Broadcast (on Warp) from the UK were all about mesmerising visuals and vocals that had leanings towards CocoRosie. They pulled a massive crowd, which in this case was a big nod to the organisers knowing what kind of quirkiness would go down well. Although Broadcast did seem a little too self-aware of their quirkiness: almost like a soundtrack that knows exactly how to manipulate the emotions of the viewers of a film.

Out in the sunny astro-turfed playground that is SonarVillage, Pete Tong (UK) sent the place mad with his tunes and all of a sudden it felt like any other festival. Fun and madcap moments here (girls with afros calling each other with a guy's lost shoes, guys with tea-towels on their heads and plastic moustaches, boarding on the very un-PC...) but not pushing any boundaries. Plenty of classic club tunes to keep the sun shining in any dancer's heart. The Round Table Knights pushed things a little further and seemed to have much fun themselves in the process. Delorean, too was fun but again not really pushing any boundaries. The crowd were generally mellow and just out to have fun and enjoy the nice vibes all in all.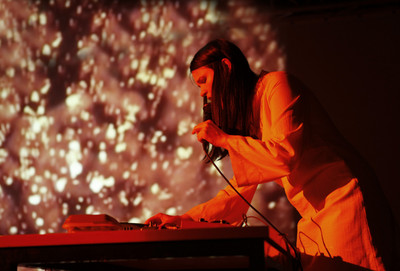 As the sun went down over Barcelona each day, it was time to venture halfway out of town for Sonar by Night. The venue being like an aircraft hangar, it was all very much like lining up for airport security checks but with 50,000 people that really really can't wait to get inside for their flights. The 'hangar' was separated into three areas: SonarClub, SonarPub and SonarLab. The names are pretty self-explanatory. Club was pretty much reserved for commercial house and bigger electronic outfits like Air, LCD Soundsystem and 2ManyDJs. Pub was for the least electronically-oriented bands like Jonsi and Hot Chip. Lab of course was for anything leaning towards experimentation. Pub and Lab were both set in the open-air under the stunning Barcelona moon and perfect for that first dance in the dawn light.

Of course the biggest spectacle at Sonar By Night had to be the Chemical Brothers. Not many could compete just with the sheer scale of their sound and overwhelming visuals.

Hot Chip and Jonsi were at the other end of the scale. They were both almost too-mellow choices by the organisers but the crowd clearly had much more intimate experiences watching them: singing along, hugging and swaying together as the music washed over them. Jonsi's visuals in particular were almost distracting in their beauty.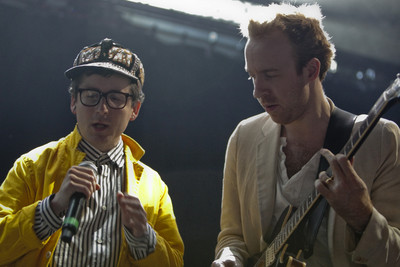 Dizzee Rascal well and truly got the Sonar By Night crowd moving, accompanied by massive, disarmingly childish close-ups of his smiling face at either side of the stage. He was all about big bouncy fun and the crowd reacted in pure joy.

Fuck Buttons at SonarLab were also a highlight - who else could pull off playing noise at a commercial festival? Their wall of sound, almost reminiscent of some sonic elements of Suicide, was almost physically overwhelming but somehow their melodic hooks and danceable basslines hooked a hugely keen crowd.

Dancing their asses off

The biggest treats at Sonar By Night were the Mary Hobbs Presents program at SonarLab and Caspa in massive sprawl of SonarClub. Joy Orbison, Flying Lotus, Roska, The Sugarhill Gang were each amazing in their own right. All so utterly danceable but pushing musical boundaries at the same time. The crowds at both were a hilarious mix of the initiated, dancing their asses off, and the uninitiated who were still finding their dancing feet and not quite sure how to move to this. Flying Lotus in particular ran the gamut from glitched-out hip-hop to techno, and even grabbing the mike at some points. It was aural confusion in the best possible way, and the crowd sweated and panted their way to keeping up with him. Following were more syncopated beats and almost sub-bass with an urban-bent that shook the concrete surrounds. UK funky told a firm hold with Roska, constantly surprising. For Caspa, despite the massively diverse influences, dupstep/ grime largely seems to remain true to what it was originally about (although with much slicker production values of course). Very much catapulted out of the damp bedrooms of the UK and onto the sunny shores of Barcelona.

As the sunlight started creeping across the littered dancefloor of Del Palo Soundsystem at close to seven on the last morning of Sonar, enough dancing was had and it was time to slip away, perhaps to the beach, perhaps to the airport. It was a festival all about the future, the future, the future: a future which cannot of course exist without giving credit where credit's due to predecessors... Perhaps the reason behind the festival's very nostalgic choices in the form of Roxy Music and LCD Soundsystem. As the sky became an intense blue on another hot Barcelona day, I was excited by the fact that a festival exists that has the foresight to showcase the global family in 'advanced' music, but still leaves enough dancefloor space for its crowd to have the time of their lives, here and now.

Foto: Sonar


comments powered by

Disqus
Hentet fra arkivene
Groovissimo


Ricochets - The Ghost of Our Love
(White Jazz)
Her lukter det 60-tall, knuste hjerter og klassikerstatus lang vei.
Flere:
Mclusky - The Difference Between Me and You Is That I'm Not on Fire
Suicide - American Supreme