Fysisk Format: Hardcore Passion
groove explores the heart and soul of Fysisk Format, and talks to main man Kristian Kallevik about it all.
08.03.09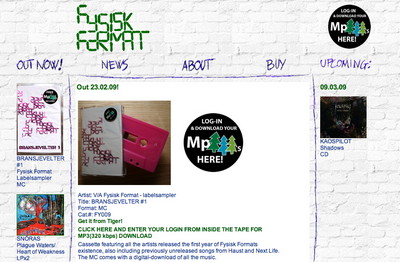 What would the world be like without record labels like Fysisk Format, seriously? Since they started last year they've put out some extraordinary stuff like it was the most natural thing to do in the world. Being run from the basement of one of Oslo's premier record dealers, Tiger, it has filled a huge void that no one probably ever knew existed until it appeared.

About Giving Birth

As I am invited down to the heart of Fysisk Format, manager Kristian Kallevik informs me that he might not have much time – his wife is in the hospital and could go into early labour any moment from now. I tell him that I will make it quick. The man goes from one joyful and passionate expression on his face to another – it's time to talk about music. There are exciting times ahead for Norwegian music. And it's been a fun road to get here, from when he was playing in the then unknown Haugesund band Årabrot.

- It's funny. They seemed to get a lot better overnight after I left the band, he laughs.

But there is no doubt that even though he left his music playing career behind him, he has found his rightful place on the scene anyway. For a long time he's been feeding hungry music lovers in Oslo, and now the family-like bunch of people at Tiger has taken it one step further. What was the idea behind Fysisk Format to begin with?

- We actually wanted to avoid starting our own record label, even though people and customers have asked us about it for years. It seemed like they took it for granted that this was the way it should be, but we needed to have our focus elsewhere, on the basic principles behind Tiger – to make alternative and different kinds of music that we like available. And we've always worked with local as well as international bands in order to make their stuff available from the shop. Some of these bands though, have a potential that we feel was a shame should remain a secret for our customers and us. Bands that we feel can reach out to a bigger audience. So we started talking to some of these bands, and asked them if the would allow us to release their next recording.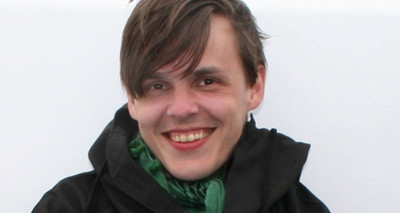 Tiger Tentacle

- We feel priviledged to be exposed to such a large amount of music at Tiger, and to be able to hear all the good stuff from the Norwegian underground. And there's a lot there, so really all we can do in Fysisk Format is to skim the surface. This way I guess it has grown out like a tentacle, like an extension of the shop.

And reviews and the response in general has been overwhelming for the young label. How does it feel to be on the inside of something like that and in a way be assured that what you do is that good?

- Well, nothing is as loomy as the media, they could start hating us or just ignore us completely before we know it. But Tiger and Fysisk Format are built to operate under those kinds of circumstances. We pick up the smaller bands and do what we can to expose them to people, and when they are big enough, they will stop selling at Tiger. People that come here usually want something new, something up and coming, instead of something safe.

So it seems like Fysisk Format has found its place in this landscape, but how do you see yourselves in all of this?

- If we don't release the things we release, there would be someone else doing it for sure. There wouldn't be a black hole if we didn't exist. We might have the opportunity to lift certain things more to the right places.

And what are these places?

- Our ways of promoting our material has been a bit volatile, we never force our stuff on people. We like to talk to people, our customers, and in a way operate in the underground here and elsewhere. Other labels, via mail order as well as distributors.

This is no doubt a method that has worked well for Fysisk Format so far, but has working this way made you want to do things differently or stick to the same way?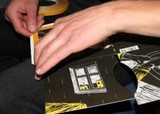 - We've got a deal with a British distributor now, and we're really excited to see what will come of that. The idea is to continue what we have done in Norway, but stepping a bit out of the exclusive underground for a moment, a lovely place to be, but not everyone has got the priviledge to be a part of it. In Norway we've had Voices of Wonder distributing our stuff to the major record shops, and we now want to do something similar in the UK. And that's our ambition at the moment – increased accessibility as well as increased focus on good Norwegian music.

Old School

Oslo is a fairly small city, but with a very vital music scene and a good tradition for hardcore. How do you go about with this?

- We're not actually experiencing a huge amount of bands wanting to be released on Fysisk Format, which is good really. The way we hear about the bands that we release is mostly through customers and friends. We are usually familiar with the bands via social networks. So bands haven't been running down the doors, and that's good – we don't like to reject anyone. There are some bands that expect that we will release their stuff, and when we can't do that, things can get really complicated.

Fysisk Format also just released a compilation cassette called Bransjevelter #1. What was the thought behind this?

- It's a collection that is supposed to be a kind of a band aid project for the industry itself. In the eighties they did these things to collect money for charity, but things have changed and now it's the music industry itself that needs rescuing. We want the cassette to be a moral inspiration for the industry.

Similar to what they do in the states with Record Store Day perhaps – do you think the cassette could work in a similar way?

- Maybe. You don't have to go back very far to notice the difference in how things work. These days everything seems to be delayed and things are sold out quicker. We think we're coming out of it all with our feet on the ground, and this is why Fysisk Format exists. It could go both ways I suppose. There are enough of people that wants to do what there's already lots of. It feels like to us that Fysisk Format started off in a time where it's necessary that someone works in the opposite direction.

Has it ever been discussed to take things in a different direction?

- Well, if we were to get on the Live Nation bandwagon, it would be hard run a record shop at the same time. And we like to do things a bit old school – we fold and glue and generally do things the hard way. The longer it takes, the better it will be. We get positive side effects that never would have happened if we based everything on being as efficient as possible.

And the family feeling you get from visiting the shop and holding one of their releases in your hands is only strengthened by this. And places like Tiger have a reputation of getting the strangest base of customers, but do they sometimes surprise you?

- I had an image in my head of a lot of weirdo, snowed-in, super-specialised, narrow-oriented nerds. But what surprised me the most is the massive range of nerds. And the nerds that don't look like nerds. People are very different, and that's great to see.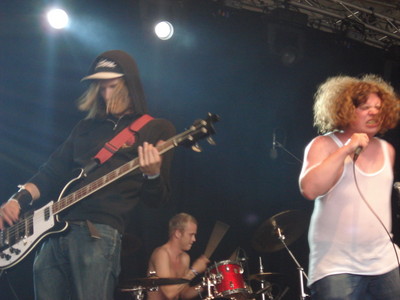 The Fysisk Format Identity

Fysisk Format has managed to be very consistent in terms of staying true to the hardcore genre. Has this been a conscious choice?

- Many of the record labels that I like the most stay true to one genre of music. And I never really imagined that we would be able to do the same, based on the huge amount of genres that we deal with at Tiger. But it's great when someone takes on that role as well. The principles of the label have been laid down as we go along, and it was never a conscious plan to be what we are today. And some of these principles have just come natural, like being able to release the underrepresented, and show that there are other things out there.

- Say if someone asks us if we want to release a fantastic, well-produced, supercatchy, übercool indierock band with huge international appeal. Thanks but no thanks. And we certainly have to process those things carefully, as we might be saying no to a lot of things for free – like money and exposure. But we really feel like we have the opportunity to release good stuff that's underexposed, and it would be a total waste to let all of that go.

In the end, this doesn't seem to bother Kallevik much at all. He's in it for the music, and gets just as much pleasure from listening to these sorts of things as releasing them.

- Norway has got good traditions and labels for genres like indie rock, experimental stuff, jazz and so on with labels like Rune Grammofon, Smalltown Supersound, Jazzaway, Sofa and Safe As Milk amongst others. And they all do a good job, so there's no need for us to enter into that space.

- Someone needs to be standing on top of the barricades and put extra emphasis on hardcore. We feel that we have that opportunity. And we might even release other things if they are underrepresented, exceptionally good and with a potential to reach out, outside of Tiger and the concrete that surrounds us here.


comments powered by

Disqus
Hentet fra arkivene
Groovissimo


Paul Weller - Catch-Flame: Live at The Alexandra Palace
(V2)
Ein maktdemonstrasjon frå første til siste tone. Det er sjeldan livealbum leverer så godt som dette gjer. Ein moderne klassiker.
Flere:
Wavves - Wavvves
Flying Lotus - Cosmogramma