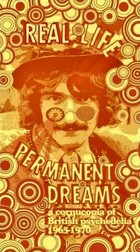 Real Life Permanent Dreams (A Cornucopia Of British Psychedelia 1965-1970)
4 x CD (2008) - Sanctuary / Castle
(CMXBX 1239)
Kjøp fra: CDON | iTunes | Amazon MP3
Genre:
Rock
Stiler:
Psykedelia
Spor:
My Friend Jack
No More You And Me
Cheat
Doctor Doctor
Day And Nigh
Fancy
I Don't Want You
Breaking Up Scene
Snow White
I Like It
Black Sheep RIP
Circles
Lilac Hand of Menthol Dan
You're Holding Me Down
I Take It That We're Through
Come on Back
It's a Crime
Love Me Till the Sun Shines
Hippy Gumbo
Gently Tender
Sunny Goodge Street
Linda Loves Linda
Up on the Wooden Hills to Bedfordshire
Rubber Monkey
Machine Head
You've Got to Hold On
Season of the Witch

Loving Sacred Loving
All Day All Night
Crazy One
Man In Black
Yellow Balloon
Real Life Permanent Dream
Clown
When The Wind Arises
I'm Flying
Trip On An Orange Bicycle
Utterly Simple
London Social Degree
Golden Lion
Sunshine Day
Boy Meets Girl
Cave Of Clear Light
I Wonder Where My Sister's Gone
Man In A Shop
Lord John
Mazy
Bakerman
Love Hate Revenge
Good Evening
It
Night Is a Comin' (aka Lindyloo)
Fire

Pictures of Matchstick Men
Five White Horses
Riding a Wave
I Know She Believes
Hey Mr. Carpenter
Bitter Thoughts of Little Jane
Disappear
Encpasulated Marigold
Henry Long
Lullaby
I've Seen to Dream
Nodnol
Colour Sergeant Lilywhite
Seeing Things Green
Golden Apples
Don't Turn Around
Silver Tree Top School For Boys
Give Him a Flower
Fade Away Maureen
Yellow Rainbow
Sylvie
Fool From Upper Eden
Love And Best Wishes
Sunshine
Green Circles
Mr. Job
Happydaystorytown

Circus Days
No Home Today
Lady Caroline
Go Your Way
Diamond Hard Blue Apples of the Moon
Horse
Candlelight
How Can I Live
Tarot
Light Of Love
On a Meadow Lea
Open Ground
Fair Maiden
Empty Room
Venus
My Gration Or
Thank You Pierrot Lunaire/Have You Ever Been Green/Pataphysical Introduction 2
Felix
Born In A Trunk
All In Your Mind
Anmeldelser på groove.no:
Drømmenes musikalske rike
Styrken til denne samlingen ligger i at det ikke bestandig er de mest opplagte valgene som har blitt gjort.
- Dag Erik Asbjørnsen, 04.12.08
Involverte band og personer:
Hentet fra arkivene
Groovissimo


Marnie Stern - This Is It And I Am It And You Are It And So Is That And He Is It And She Is It And It Is It And That Is That
(Kill Rock Stars)
Intrikat, energisk, progressiv og poptastisk, og definitivt noko for seg sjølv. Det er Marnie Stern det.
Flere:
The Streets - Original Pirate Material
Mclusky - The Difference Between Me and You Is That I'm Not on Fire