Gratis Okkervil-mix
Golden Opportunities mixtape tilbys for gratis nedlastning via bandets hjemmeside.
Del på Facebook12.12.07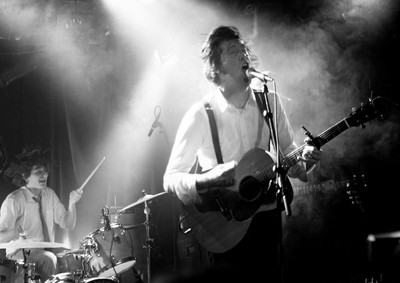 Okkervil River tilbyr en lekker førjulsgave til fansen: En helt gratis mixtape med fint omslag og liner notes - gratis for nedlastning via deres hjemmeside.

Golden Oppurtunities heter denne samlingen, som består av ni spor, de fleste coverlåter, og er innspilt under USA-turneen deres i 2006-07.

- These songs were recorded live on tour around the United States and America, and range from performances with a live orchestra to solo songs recorded in hotel stairwells, meldes det fra Okkervil.

Låtene:

1.April Anne (John Phillips)
2. Simon Smith and the Amazing Dancing Bear (Randy Newman)
3. I Want to Know (Charles F. Olsen/Ed Sanders)
4. Do What You Gotta Do (Jimmy Webb)
5. I Came Here to Say I'm Going Away (Serge Gainsbourg / oversettelse: W. Sheff)
6. The Blonde in the Bleachers (Joni Mitchell)
7. Antarctica Starts Here (John Cale)
8. Listening to Otis Redding at Home During Christmas (Will Sheff)
9. Solo (Sandy Denny)

Okkervil River spilte nylig her i Norge, og de vender tilbake til Europa allerede i februar/mars for konserter på de britiske øyer og på kontinentet. Til sommeren kommer de til Øyafestivalen.


comments powered by

Disqus
Hentet fra arkivene
Groovissimo


Kråkesølv - Trådnøsting
(Diger)
Stilsikkert, kreativt og bemerkelsesverdig fra Kråkesølv, som gjør den beste norske debuten på årevis.
Flere:
Fra Lippo Lippi - In Silence And Small Mercies - The Early Years
Cornelius - Point