Intervju: 22 Pistepirkko
Thomas Karlsen har uvekslet strofer på finglish med det plate- og konsertaktuelle finske bandet 22 Pistepirkko.
10.03.08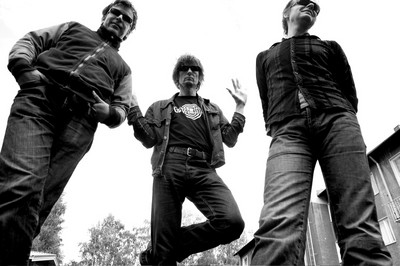 Espe er trommis og perkusjonist. PK er heliumsvokalist og heter egentlig Hannu, og er broren til Asko Keränen, som er sistemann i den finske trioen 22 Pistepirkko. Bandet har eksistert i 28 år, og ga nettopp ut enda ei fin skive på sitt eget skivbolag, Bone Voyage. (Well You Know) Stuff Is Like We Yeah! ble nylig anmeldt her på groove.no.

How the devil are you? What are you up to right now? And where are you?

ESPE: We are pretty fine. Pretty much playing gigs in Scandinavia and Middle-Europe. At the Helsinki at the moment.

PK: Quite all right getting used to be on the road again.

Congratulations, you have another fine record out. What's the story behind the making of this one? Lovelornness seems to be the key word

ESPE: Thank you. I'm happy if you feel that way. The story behind it is pretty much that this time we wanted to play songs live as a trio and avoid overdubbing it too much. So we choose the 14 best songs out of what we got. Arranged and learned to play them as well as possible. And somehow we succeed it this time. We didn't start to fool around with them months and months...
We didn't try to make any particular type of an album. Those were the songs.

PK: I think that one of the main stories is that when we started to plan the album, we decided that it should be s-i-m-p-l-e to do. A band playing in a same room, not so much fixing, editing, etc. We played most of the songs in our live shows before we recorded them.

You've been around as a band since 1980 - how is a band able to survive for that many years?

PK: It has been kind of fun & interesting

Is there a secret?

ESPE: No there is not a secret. Chemistry of the guys were right for this band. And when we had some problems or different opinions or ideas, we discuss and solved them instead of breaking the band. Also we respect each other.

Do you ever grow tired of each other?

PK: Yes we get tired of each other every now and then!

Who takes the most unpopular decisions, and stirs an upfry way too often? And who's the worst decision maker in the band?

ESPE: Maybe it's better that I don't answer those questions, so that we don't break up...

Looking back at 28 years: What are the high and low points of your career so far?

ESPE: Wow, you have difficult questions. High points: the beginning. Because we wanted to become a really good band with so serious attitude and working moral, and now, because we have been going on 28 years with "sisu". And that in this type of a work you met a lot of a really nice people, see the world and do the work you really like. See some good bands.

PK: High points: Being able to make/play music and even being able to make your living by doing so! Low points: Maybe my veeery selective memory is trying to protect me: Tonight I can't name any!

ESPE: Low points: Every night when you are in filthty and cold backstage room without any sort of catering. You are in that same place for a 16th time. Nobody came and you play a lousy gig.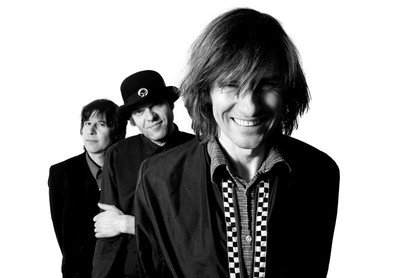 Touring seems to be one of the most important aspects of you as a band. You seem to be inevitably linked to the road. Is there a place you always have to come back to - and why?

ESPE: No not really. We have always gone where our booking agency have told us to go. But I personally would love to someday go back to Australia. There was so warm.

PK: Being on the road can bee veeeery nice if the band is feeling ok with that and if the music is talking to you and to the audience, then I really like it and then you are even able swallow the fact that you are always coming back (for some mystical reason) to the same places/cities/clubs.

What's a good concert audience?

ESPE: That they can also be quiet and listen, get wild if they feel so and don't shout for one song all night, even that we have played that song already.

PK: Those who don't try to shoot you.

Where is home?

ESPE: Home is where you live and where you family is, but home can also be a place where you feel like home.

PK: Home is at home!!!!

Who are the best, or most inspiring, band you've been touring with?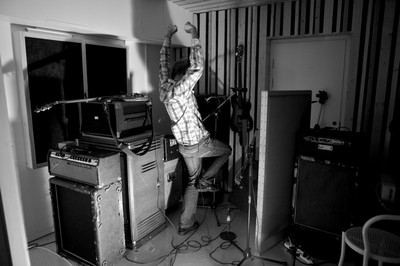 PK: Strange enough, we haven't been touring that much with another bands?

ESPE: In these 28 years the questions are usually all the same, but not this time. I have to say that I like this journalist. Even that he is given me a hard time. For that questions. We have played with Mano Negra and Bo Diddley which I really like. But touring with... hmmm... I hope it's Chris Bailey in upcoming Swedish gigs. But so far I really enjoy playing with our own record label bands Joensuu 1685, Anssi 8000 & Hot Coke, and The Micragirls.

What sort of music are you into at the moment? What makes you kick? And what makes you tic? Who controls the band bus stereo?

PK: Generally speaking music makes me kick and sometimes even tic! Everybody are mastering/controlling their iPod's or what ever headphone system they are using. Band bus is note free zone, so that people can set up their own entertainments.

ESPE: For me at the moment it's The Knife from Sweden and Devendra Banhart.

Any particular impression of Norway from your many gigs here?

PK: I've alvays liked to play there. Mountains, water, cheap coffee!!

ESPE: Beautiness. Beautiful landscape and girls.


comments powered by

Disqus
Hentet fra arkivene
Groovissimo


Thomas Dybdahl - Science
(Universal)
Hausten er her. Dybdahl er her. Men er ikkje graset litt grønare? Og har ikkje fyren laga si beste plate tru?
Flere:
Bonnie Prince Billy - The Letting Go
Jim O'Rourke - I'm Happy, and I'm Singing, and a 1, 2, 3, 4