Band of Horses følger opp debuten
Cease to Begin slippes på SubPop 8. oktober.
Del på Facebook02.09.07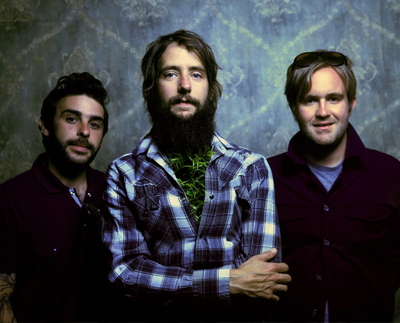 Etter en del fintelling viste det seg at groove-stabens samlede favorittplate i 2006 ble Band of Horses' debut Everything All the Time. Men det er nok ikke bare våre penner som sitrer av forventning når amerikanerne nå følger opp med Cease to Begin (SubPop/Tuba, 8. oktober.)

Everything All the Time oppnådde raskt en viss status etter at den ble sluppet i mars 2006. Band of Horses spilte på Letterman, var finalist for Shortlist Music Prize og kom endog til Øyafestivalen senere samme år.

De har igjen samarbeidet med Phil Ek (Built to Spill), men ellers innebærer 2007 en "ny start" for Band of Horses. Melder SubPop:

- For a lot of reasons, Cease to Begin is the perfect title for this new record. Not only do the songs themselves weave this theme through the record, but stopping and starting anew is also a reflection of the past year and a half for Band of Horses. Much has changed between the fairly recent then and now. There have been band members who have come and gone, including Mat Brooke, who left the band to pursue other interests and his own band. For core members Ben Bridwell, Rob Hampton and Creighton Barrett, there has been a move from Seattle, WA to Mt. Pleasant, SC, a relocation that had been planned for some time so that they could all be closer to their families. And, close friends and family have come and gone—some far too early. Necessarily shot through with these experiences, the songs on Cease to Begin are strikingly beautiful, if less elliptical and more straightforward, with more sophisticated arrangements than the last record.

Det får tiden vise, låtlisten er i hvert fall som følger:

1. Is There a Ghost
2. Ode to LRC
3. No One's Gonna Love You
4. Detlef Schrempf
5. The General Specific
6. Lamb on the Lam (in the city)
7. Islands on the Coast
8. Marry Song
9. Cigarettes, Wedding Bands
10. Window Blues



comments powered by

Disqus
Hentet fra arkivene
Groovissimo


Diverse artister - Østfoldminner
(Normann)
En døråpner til glemt populærkultur og et panorama over en rik underskog av musikalsk og poetisk talent.
Flere:
Wire - Red Barked Tree
Suicide - American Supreme