Alarmprisen 2007
Disse er nominert til årets Alarmpriser:
Del på Facebook03.10.07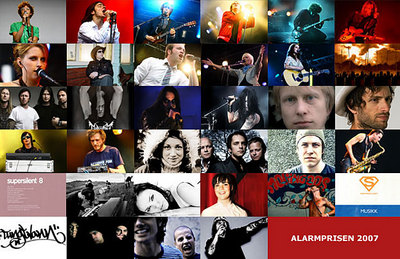 Rock
120 Days (120 Days)
Big Bang (Too Much Yang)
My Midnight Creeps (Histamin)
King Midas (Sorry)
The Lionheart Brothers (Dizzy Kiss)

Pop
Marit Larsen (Under the Surface)
Rockettothesky (To Sing You Apple Trees)
Superfamily (Warzava)
Magnet (The Simple Life)
Susanne Sundfør (Susanne Sundfør)

Metal
Dimmu Borgir (Insorte Diaboli)
Satyricon (Now Diabolical)
Audrey Horne (Le Fol)
Mayhem (Ordo ad Chaou)
Keep of Kalessin (Armada)

Jazz
Supersilent (8)
Shining (Grindstone)
Håkon Kornstad (Singel Engine)
Tord Gustafssen Trio (Being There)
Hanne Hukkelberg (Rykerstrasse 68)

Electronica
Kim Hiorthøy (My Last Day)
Lindstrøm (It's a Feedelity Affair)
Pleasure (Pleasure 2)
The Whitest boy alive (Dreams)
Bjørn Torske (Feil knapp)

Hip hop/Rap
El Axel (It is What It is)
Karpe Diem (Rett fra hjertet)
Darkside of the force (El dia de los Puercos)
Tungtvann (Siste skanse)
Samvirkelaget (Musikk)

Nykommer
Susanne Sundfør
Moving Oos
Ida Maria
Rockettothesky
Elvira Nicolaisen

Live
Big Bang
Superfamily
King Midas
The Grand
Samvirkelaget

Beste låt (f.o.m. januar 2006 og frem til i dag)
– skal publikum være med å stemme inn på nominasjonslista, ved å sende ALARM + Låt+Artist til 2210 innen fredag 5. oktober. Det vektes 50/50 med stemmer fra norske journalister.

I tillegg skal det deles ut tre juryerte priser:

- Alarmprisens hovedpris til et norsk band på vei opp,
- RiksAlarm! til et band som får en turné i hele Norge, arrangert av Rikskonsertene, samt
- Alarmprisen for beste video.

Publikum kan stemme på sine favoritter på alarmprisen.no frem til 26. oktober.

Alarmprisen deles ut på Sentrum Scene 27. oktober.


comments powered by

Disqus
Hentet fra arkivene
Groovissimo


Information - Biomekano
(Rune Grammofon)
Totalt gjennomført plate. Burde vært gangbar som avgangsprøve på Arkitekthøgskolen.
Flere:
Saint Etienne - Smash The System - Singles And More
Love - Forever Changes