Intervju: Crystal Stilts
Hey, do you have Chippendale-dancers in Norway? groove møtte amerikanske Crystal Stilts i København.
11.03.09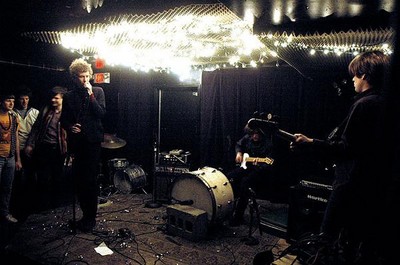 New York-baserte Crystal Stilts har imponert den seneste tiden, med et dystert og fengende debutalbum og solide konserter på sin Europaturne. Sist fredag gjestet de Oslo, og etter konserten på Loppen i København søndag, tok grooves utsendte en kort prat med en sliten gruppe på nippet til det helt store gjennombruddet, i ferd med å avslutte sin lengste utenlandsturne noensinne.

About Oslo and touring
Kyle Forester: Well, Oslo was great. The warm up act was really amasing. What was their name, again?

Brad Hargett: Maribel

Kyle: Yeah, probably one of the best warm up bands we've had on this tour.

Kyle: One of the members of Maribel actually had the first ever Crystal Stilts singel. He'd been to New York in 2006, where he met Brad's girlfriend at the time, her raving about his band and gave him the very first 7'' of Crystal Stilts, that thing was released in like 50 ex or something. Insane.

Andy Adler: Anyway, this has been our longest tour to date, we started out 2. February, with gigs almost every day in Europe and UK, and march 10th in Berlin is our last, before we go back home.

Andy: We've really had our ups and downs on this tour. At about halfway through I actually got really down and depressed, because its just so far away and tiering, and it's really hard work. You never really get any real rest at all. But now I'm fine, and all in all it's just been a real great experience.

About the startup and band's history
Andy: Hey, do you have Chipendales in Norway? Yeah, because Brad and JB really used to be Chipendale-dancers!

Brad: Yeah, 'cuz before forming the band, Brad and I were actually living as male strippers, and had this show together at a club in New York, and one night Andy walks in, watches our show and was so impressed that he immediately figured: "Hey, I need to start a band with these guys."

Brad: Well, no, thats a lie... Actually JB and I met down in Florida, were really from down there, and because many of our friends started moving to New York we moved there to, and It all started up in 2003 with just us two playing around with it, you know, just for kicks, using a drum machine at some point, and for a while JB played Guitar and a kick Drum with his foot at the same time. We really only became a full band like a year ago, with Andy, Kyle and Frances joining.

Brad: Andy and I worked at the same record store, and Kyle worked at this resturant that only served peanut butter sandwiches, and he used to bring us sandwiches to the record store. Well, now he's really more down to it, acclimatized or something, but earlier Kyle was more of the starstrucked type, with big eyes to everything about rock-music, just loving the very idea of being in a band.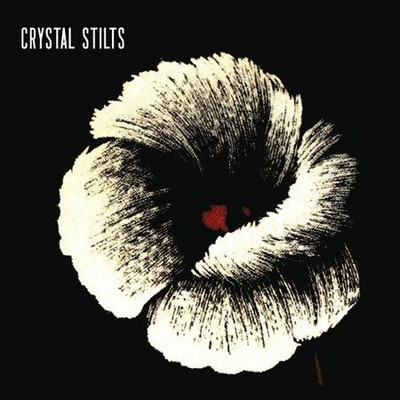 About Alight of Night
Brad: It bugs me a bit, 'cuz people dont really notice this, but there's a real story behind this album, I've worked real hard to make this album into a concistent piece.

Andy: The album was really made in 2006, before we - Andy, Kyle and Frankie - joined the band. JB played all the instruments on Alight of Night, and Brad used a long time making up the stories, working to make everything fit. That's why it took so long before it came out. These aren't just 10 songs played and put in randomly, they make up a story and a unity. People seem to miss that.

[Andy actually played bass on the albums opening track "The Dazzeled", his sole contribution to the album]

About songwriting
Brad Hadgett: We really like the writing and recording best. For me the prosess of a song developing before your eyes is much more rewarding than playing live.

Andy: Many bands design their songs to be played live, but our focus is definatly on the creative process, not on the performance. The prosess of making a song is usually JB coming in with a four track with the basic riff, idea or blueprint-structure for the song, and then we work out everything over time in the rehersal space. Some songs come real quick, others are harder, and takes a long time to make into a finished product.

Brad: We make songs whenever we have the time. There are 4-5 new songs we've played througout this tour, the A and B side of the single, that'll be released in a couple of weeks, beeing two of them, but the problem isn't really that we don't have any new songs or anything, JB has a stack of 4-tracks we will work on when we get back, but we just haven't had the time to develope the ideas into finished songs yet. That's what we really look forward to do when we get back home. To get to work on new material, and just watch it evolve

About influences
Brad: There are actually a lot of influences that nobody writes that have a lot more to us than those that are mentioned. Its like... old folk stuff! That's the things we listen to! Not that we don't like what everyone compares us to, but our real influences are perhaps more hidden. Nobody ever mentioned Leonard Cohen, even though he has a huge influence on my writing.

And I'm actually really obsessed with Bob Dylan, but I'm just a bit afraid to touch that influence, you know, because to me he's too important and out of reach to use as a direct inspiration, so often I tend to avoid the temptation of using his work as an inspiration. But it's like, one often takes these things with them subcontiously, and somehow I carry it with me into whatever I do and often, its there, its just hidden.

Andy: Well, I'm a huge Comic Aid fan.

Brad: Mazzy Star! Hey, write that down. Mazzy Star is great.

Andy: Best gig I've ever been to was Randy Newman in London. I am a HUGE Randy Newman fan, and I have another project, and we're just about to release the album now, and it's an abum of just Randy Newman songs swapping out all the piano parts with banjo, Me playing the banjo and this other guy playes all the other instruments. The band's called Andy Sings Randy, because of the Harry Nilsson album Nilsson Sings Newman.


comments powered by

Disqus
Hentet fra arkivene
Groovissimo


The Mormones - Guide To Good And Evil
(Trust Me)
Opplandsk minimalisme som burde åpne for internasjonal anerkjennelse.
Flere:
Sharon Van Etten - Tramp
The Boy Least Likely To - The Law of the Playground