Sufjan Julenisse
Nå kan du bytte julesang med Sufjan Stevens.
Del på Facebook15.11.07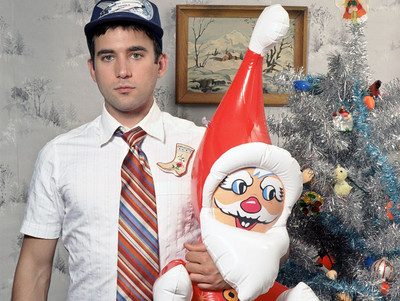 Sufjan Stevens tar julen på alvor. I fjor ga han like gjerne ut en femdobbel juleplateboks, i år tilbyr han å gi bort en helt ny julesang til en av sine fans. Men godeste Stevens ønsker også å få en noe tilbake.

For å få Sufjans julesang, må du skrive en original julelåt, spille den inn og sende den til Sufjans plateselskap Asthmatic Kitty pr. e-post. Asthmatic Kitty finner en vinner, og den personen bytter rettighetene for sin låt mot rettighetene til Sufjans låt.

Plateselskapet Asthmatic Kitty utdyper mulighetene:

- Just like a gift exhange, Sufjan's song becomes your song. You can hoard it for yourself, sell it to a major soft drink corporation, use it in your daughter's first Christmas video, or share it for free on your website. No one except Sufjan and you will hear his song, unless you decide otherwise. You get the song and all legal rights to it. We get the same rights to your song.

Det er med andre ord ingen grunn til ikke å finne frem nisselua og spisse blyanten.

For mer informasjon om Sufjans julesangkonkurranse gå hit.


comments powered by

Disqus
Hentet fra arkivene
Groovissimo


Marnie Stern - This Is It And I Am It And You Are It And So Is That And He Is It And She Is It And It Is It And That Is That
(Kill Rock Stars)
Intrikat, energisk, progressiv og poptastisk, og definitivt noko for seg sjølv. Det er Marnie Stern det.
Flere:
No Age - Everything In Between
Paul Weller - Catch-Flame: Live at The Alexandra Palace