Americana, East Coast Style: Intervju med Will King
Kjenner du ikke til Will King? Lars M. Døring lar oss i dette grundige intervjuet bli bedre kjent med den amerikanske artisten.
03.12.08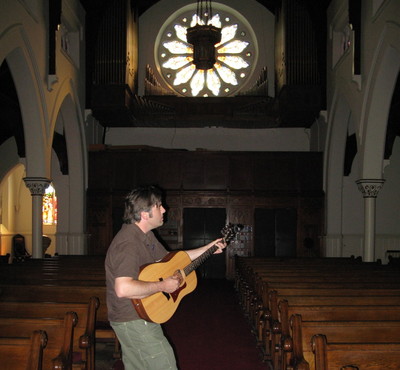 If you have just the slightest interest in today's music scene, you encounter a lot of artists, maybe too many, because most of them enters into your left ear and exits again through your right, not leaving many traces; but, from time to time, you get to hear someone and something that tend to stick.

I got introduced to the - on these latitudes - absurdly unknown New Yorker singer/songwriter Will King having to review his debut solo album, Come On In From The Cold and later jumped on the occasion to do an in depth interview with the artist; I caught him in between having released the debut and working on songs for follow-up and was rewarded with a thorough introduction to not only him but also his thoughts about music and his working process.

After touring and recording throughout the mid-to-late 1990s with Melange and other acts, Will King began writing and performing as a solo artist. Throughout his career, he has played in clubs and theatres from coast to coast; with comparisons to artists like Cat Stevens, Jorma and Leonard Cohen, King's music is moody, thought provoking and rife with hooks and melodies. His lyrics are poignant and far-reaching

Music is really a tribal thing. It's like the beating rhythm of the heart. It's like breathing. Being alive. It floats to us the second we're born, touches us and stays deep within our complex structures until the moment we hopefully are laid to rest in peace for ever and after. Music can make you, just by the stroke of a single note, travel back to the beginning of everything and returning to the ever present now... in one instant! This is the true nature of music. This is music. The music everybody loves. This is probably, too, the reasons why we love it so much and most of us can't seem to live without or, if we chose/happen to do so, life doesn't seem quite as full as it should be.

Doesn't it sound reasonable? Doesn't it sound right?

I think it does. I should, shouldn't, as I have pinned it down, right? But I've to be fair, though, and admit that most of these words, like the majority in this article, are not at all mine. Much as I like them to be, I've only made them mine, temporarily, asked, begged and borrowed for from the pleasant New Yorker and singer/songwriter Will King whose debut solo-album Come On In From The Cold I've been fortunate enough to get my ears onto.

Being a songwriter is nothing that unusual these days, especially not, I guess, in The Big Apple, but as soon as you enter Kings Universe, you surely will feel, hear and easily know that you're dealing with someone truly in and of his own.

Native New Yorkers could be familiar with both name and voice, if nothing else as a part of the nineties popular band Melange, but being Danish/European, he and his music is all new to me. This isn't as sad as it sounds. Not if you're as curious as I am. Then, luckily, there'll always be new worlds to discover. But that he, himself, only now is on the verge of coming into being a solo-artist though performing as such since the millennium is incredible, yet also appealing news to me. He's not in it for fast forgotten fame. There's no denying that he wants to be heard, like any other musician, but somehow the act is more important than the result:

– Prior to performing solo, I was a busy musician both on the road and in the studio with various projects. I took time off from that reality and concentrated on my song writing and approach to the acoustic guitar. Next thing I knew six years had passed and I got the itching to record an album.

The album, aforementioned Come On In From The Cold, have made him self-confident, though humbly realizing both strengths and possibilities, not satisfied nor set, but wanting to take everything as far as he possible can. This self-awareness is very admirable, but it might also be a musician's natural survival instinct. It's never enough being good at what you do, because there're so many talented performers today; you have to keep evolving. The moment you stop that, the vitality slowly dies inside of you and your music fades all along. You must constantly find the exact expression that sums you up and (if you really want to do this) make you stick out from the crowd. The focal point with King is a voice which vocal powers seem to hold the whole world in its embrace; the voice, however true, is also very deliberate:

– My voice has slowly evolved. I've always written songs but early on had other singers sing. That was part of my evolution. Learning how to control my voice in a live setting was also critical. Around the time that I went solo, I realized that I felt something special with just my voice and the acoustic guitar. It was refreshing to have that freedom which at times I did miss, coming from an electric band and all. I began to realize that if I practiced my craft and took great strides in learning how to deliver an otherwise different type of voice, I might be able to have my songs stand out as unique. What I'm missing is something I've recently discovered on the road, doing gigs, namely conveying my songs in a simple but powerful way.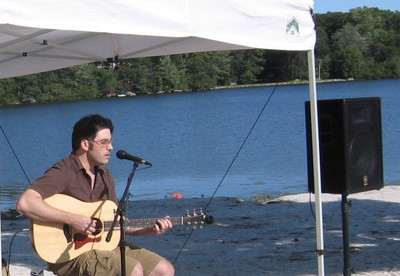 From the vantage point of the latter, to me [the writer] Come On In From The Cold is simply put an album with four great peaks, four incredible simple sounding, but strong songs, each in its own right: [The Legend of] Johnny McPhee, Venetian Blind, I.O.U and Flow.

The rest stands somewhat paler, all very well conceived, but I figure any songwriter would happily sacrifice unmentioned body parts for having written just one of the four mentioned. But the record is also a promise of even greater things to come from Will King.

Decisive for – and one of the most wanted from – the record, though, is the almost doctrinal titled 'I Won't Give Up', written in 2000, slowly growing from family favorite to live audience demand, showing the songwriter a very obvious but certainly not always easy path for him to tread, thus inevitable becoming a dogma after which he lives his life.

Not wanting to appear too cliché beforehand, though, he chose not to make it the title track, opting instead for the opener, in which song he reveals a small, but powerful truth (apparently forgotten by some): Got some time before we go. Might as well live (it up) and that's what King does. Time hasn't stopped since he released his debut and he hasn't stopped writing material but rather intensified it. In between performances and songs in favor of the noble courses of humanity and peace (and who would argue with the want of more of both in this crazy world?) he's been writing on a tight schedule, coming up with possible pieces for a forthcoming album:

– I'm now enjoying the process of creating and sharing. I like to play and work early in the morning and late at night. Often the first song of the day is the most special. There are days where I play five or six hours. When I'm writing a new song, I might play it twenty or thirty times in a day. During this process our dog Reilly has become a great friend. I mentioned him in the liner notes of my album because he stuck with me through the recordings. Amazingly he still sticks with me. He often hears each and every song endless times and while seemingly sleeping never leaves the room. You couldn't ask for a better fan.

Normally the songwriter would hold on to these new songs until the next record but, virtually, the internet has opened up a whole new range of possibilities for the artist, amongst these YouTube, where he can publish new stuff and get immediate response and even push his own creativity a bit further, as it happened with Lyle Lovett's 'South Texas Girl':

– It has actually been a great experience. I have built up a good, steady support, fans, I suppose. This medium allows me to reach more people than gigs can. I love playing live, but, as an independent artist, you need to find ways to cover a lot of territory quickly, and YouTube is serving that desire. I'm letting the songs out [there] to see what the response is. And I often listen to other performers and will respond with a video if I think there is a connection, e.g. as with Lovett's song and my own 5 Dollar Bet.

There's no easy answer to what or who could build that bridge, because Will Kings' personal taste is unlimited:

– I like songwriters and great melody makers. I like Jerry Garcia. I like Miles Davis. I like George Harrison. I like Dylan, Lennon. I like Andrew Bird, M. Ward and just so many others. Jimmy Page was the first guitar player I heard and he blew my mind acoustically. In the end my own music is an amalgamation of folk, rock, jazz, blues... in many aspects it is Melange. There was good reason we selected that name for the band back then, because we all came from different areas musically but had certain similar interests. I think moving forward I've just built upon that theme as a solo artist.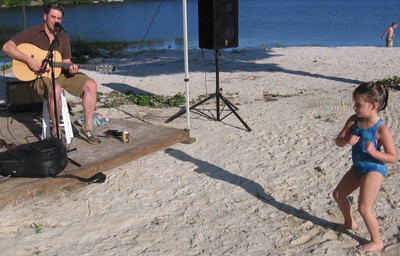 Some of the songs now audible on the internet will make it to the next album, some won't. Nothing's decided yet and the strangest part is, when talking to him, that this new record doesn't seem very important at the moment; at this early point he's rather writing songs for the sake of songwriting, almost awaken with the realization that you only can feed creativity by creating. It doesn't help to sit and wait around for that golden moment of inspiration that just never comes; no, you simply sit down and work your butt off.

– Songwriting comes in waves and I'm in a very big wave right now. I have been using a lot of open tunings on the guitar and slowly discover new ground, a process that keeps me up late at night. In some of my early bands, while I wrote both songs and lyrics, I did not sing. In time that of course has changed but my writing process hasn't. It seems to always come from the guitar first; riff, melodies or chord progressions usually come first. I find not reiterating influences or past songs I've written a challenge and here begins the journey to become unique.

- Now, I want to create a listening experience both musically and lyrically and that's really the biggest change in my songwriting; when I was younger, the stories were often vague. A good song should make the listener feel and react. Good songs have to hit people either where it hurts or where it makes them feel good. There is no middle ground. There's always a moment in a song where the message becomes personalized, or at least from songwriting perspective that is your goal. That moment is different for each and every person. For many people that happens in a chorus or a cool riff or melody. For other people, it might come in the delivery of a single lyric. In every song I write, I want to feel those things too.

- That's my ambition and I only hope it translates. As a songwriter, you can't ask for anything more. And as a songwriter, I'm always looking around me, overhearing conversations and investigating my own interpretations of life. From this approach, songs are born. I tend to look at the big issues in life, and when you do that, you normally find yourself writing songs that can be considered sad. But, for me, getting a sad song to resonate is hard, and Venetian Blind is a good example of that. When I perform that, people are often caught off guard by it or so they say. Maybe because there aren't any minor chords throughout it like there is in Johnny McPhee. When the old man dies reaching for the venetian blind it's hard to hear and it's hard to sing. But in that sadness, we are able to grow and learn. On the other hand, is just as hard to express joy in music. You need more major chords. You need a story that conveys happiness, which is an equally tough challenge.

These are the conditions you have to face, when life is the clay that you have to work with.

– I tend to write song about the human condition, about struggle and enlightenment. I like personal transformation and people that are not afraid of facing change regardless consequences. Those are the type of people I look up to. However, I do not always write about that kind of people. The character in I Won't Give Up is an unreliable drunk but he manages to keep going. Something intrigues me about people like that, too. But sometimes words are not at all needed to convey feeling(s), and I've always had a soft spot for instrumental songs; they give the listener the opportunity to create their own lyrics by the thoughts music creates when listened to. This way it is participatory.

Continuing that line of thought he also hopes to write songs for other people in the future, because "there are songs that I write that I really like but can't command in the way I wish."

Above said, King suggests that the forthcoming album will be more of a solo affair but then again that's also how the sessions with Come On In From The Cold begun:

– My intention was for it to be a straight-up solo singer/songwriter album, but, as I was in the process of finding myself as a recording solo-artist, the engineer that I was working with suggested a few ideas, that led me to consider drums and bass on some tunes. Additionally, my friends John Cohen and John Ventimiglia agreed to participate, which was great. But I think my next record will be closer to a solo acoustic album because that is how I have been performing this last year and people are responding to this straight-ahead approach.

Fact is, though, as the saying goes, that no man's an island and musicians tend to draw other musicians in close. Will King has had the privilege to work with his share of good musicians:

– Michael Friest, whom I played with years ago and still do from time to time, is a great musical partner in crime. He gets it. He understands the process and that's something I highly value. Every single of my old band mates taught me something. I wouldn't be where I am without their collective insights and help. I know that and always remind myself of that fact. Then I've had, too, the opportunity to meet some very famous musicians. Members of Led Zeppelin, The Band and performers and songwriters like Richie Havens and John Cohen, amongst others. There truly is such a thing as musical osmosis and I look back on these experiences with fond eyes because I learned something special from some of the greats.

And not long ago The Willie Nelson Peace Institute asked him to cover the song A Peaceful Solution.

– As a long time fan of Willie, what an honor. I was so inspired but the mission and the other songwriters who took time to cover and interpret the song that I got to work on it quickly. My version takes certain liberties on the chords and lyrics but this is what it's all about, I believe: Liberty.

For many people, past and present, the word Liberty is strongly connected to New York, but how can one city (of literally thousands) stand so easily out as one of the most influential in any possible way? King offers his own explanation:

– I lived for a brief time in San Francisco and Los Angeles. I was playing music with another band out there. I drew influences from Bay Area musicians like the Grateful Dead, and of course the music and the many genres that influenced them. So historically, you have bands like the Grateful Dead from San Francisco and The Doors from Los Angles in the 1960s that provided a platform for countless bands to come. But the vibe out there is different, sunny, warm, has a fair bit slower pace than here on the east coast. See, New York has in some aspects a more defined edge. Of course I could be biased as I was born in the City. I have lived here in the past and live here now, in the Bronx. When performing with Melange, we played quite often in Greenwich Village, which is an amazing place. I was there just the other night, walking the streets, cold rain hitting my face and hot music pouring out from all the open club doors. It is electric. That is New York to me: Ever vibrant. Endless possibilities. New York is a musical Mecca and will probably always be. There is nothing like doing a gig in New York City.

In the end, also as an artist, you're of course a product of all those elements that probably best can be labeled as life, the very same life that you're trying to interpret … and by life, the nature within us all; there's no way around, that nature is our Cathedral, that our respective lives are all parts of a greater cycle and we often feel most alive when connected to that cycle, to that nature, to the nature of being human. Will King, himself, a true force of nature, and even though Come on in from the Cold as a whole [in my opinion, of course] isn't a totally accomplished affair, it does has its magic moments and incredible songs, which really does also make him a name to be reckoned with in the future.

Listen to him in whatever media you prefer and tell me I'm wrong. I'm not, you'll see.

All photos: willkingmusic.com.


comments powered by

Disqus
Hentet fra arkivene
Groovissimo


The Low Frequency in Stereo - Futuro
(Rune Grammofon)
Med sitt fjerde album treffer The Low Frequency in Stereo blink, og slår til med en psykedelisk tur i kraut-land.
Flere:
Archie Bronson Outfit - Coconut
Katatonia - Viva Emptiness