Death Cab For Cutie til Quart 08
Nytt album ute 12 mai. Quart med sterkt program.
26.02.08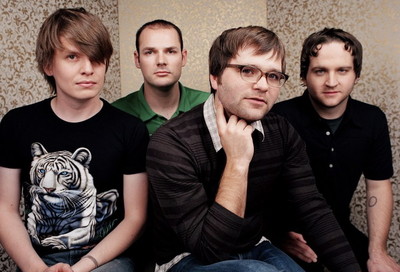 I dag offentliggjør Quartfestivalen nok et band til årets festival; amerikanske Death Cab For Cutie.

Samtidig kan vi melde bandets kommende album. Det har fått navnet Narrow Stairs, som er til salgs fra 12. mai.

Det er tre år siden sist Seattle/Bellingham-bandet slapp sin forrige plate. Første singel fra albumet blir I Will Possess Your Heart.

Låtliste:

Bixby Canyon Bridge
I Will Possess Your Heart
No Sunlight
Cath…
Talking Bird
You Can Do Better Than Me
Grapevine Fires
Your New Twin Sized Bed
Long Division
Pity and Fear
The Ice Is Getting Thinner

Quart meddeler også at The Streets kommer til Kristiansand i sommer. Med dette begynner programmet på Quart 08 virkelig å finne sin form, med en rekke spennende artister meldt klare. Vi sakser:

Anna Jarvinen, Asobi Seksu, Cobblestone Jazz, Cradle Of Filth, Digitalism, Dizzie Rascal, Friendly Fires, Future Of The Left, Holy Fuck, I'm From Barcelona, Johnossi, John & Jehn, Justice, Keep of Kalessin, Kent, Kool Keith, Interpol, Lionheart Brothers, Lykke Li, Madcon, Maria Due, O'Death, Parts & Labour, Real Ones, Saul Williams, Shining, Spank Rock, Surgeon Live, Taxi Taxi, The Enemy, The Grand, The Megaphonic Thrift, The Young Knives, Three Trapped Tigers, Totalt Jävla Mörker, Trentemøller in Concert, Unkle, Vincent Vincent and the Villains, Yolz In The Sky.

Følg med videre på Quarts hjemmesider.


comments powered by

Disqus
Hentet fra arkivene
Groovissimo


Alamaailman Vasarat - Huuro Kolkko
(Laskeuma / Nordic Notes)
Den finske underverdenen inviterer nok engang til epileptisk dans, polonese og moshpit.
Flere:
Nas - Street's Disciple
Kenneth Ishak And The Freedom Machines - Kenneth Ishak & The Freedom Machines